What happens when: US election on the BBC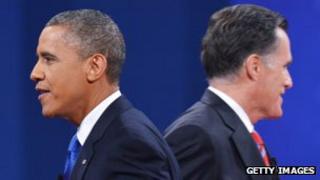 The US presidential election is taking place, with more than 100 million Americans casting their votes.
The BBC is bringing viewers and listeners comprehensive coverage across TV, radio and online, both in the UK and around the world.
You can keep up to date with the latest results, analysis and interviews using your mobile phone or by following us on social media.
What happens when
Traditionally the overall result emerges between 0300-0700 GMT (2200-0200 Eastern Standard Time) but in a tight race like that in 2000, it can be a lot later.
The first polls close in Kentucky and Indiana at 2300 GMT (1800 EST), and the last polls close in Alaska by 0600 GMT (0100 EST) on Wednesday. Each state is "called" some time after the polls close - these are projected results based on exit poll data and partial vote counts.
Presidential elections are run using an electoral college. Each state is given a number of votes based on its population. The candidate who wins 270 electoral college votes becomes president.
Because many states are solidly Republican or Democratic, the race is often determined by swing or battleground states, which take longer to count. Key timings and battleground states to watch for are:
0000 GMT (1900 EST) polls close in Virginia, which has 13 electoral college votes, and five other states.
0030 GMT (1930 EST) polls close in Ohio, which with 18 electoral college votes is considered as perhaps the most crucial of all the swing states. North Carolina, which has 15 electoral college votes, is also considered a battleground state, and could see Republican gains in the House of Representatives after electoral districts were redrawn
0100 GMT (2000 EST) polls close in Florida, which has 29 electoral college votes and New Hampshire, which has just four. In Missouri Republican Todd Akin is running for the Senate. His chances of deposing Claire McCaskill were damaged after he came under fire for comments about "legitimate rape". Another key Senate race in Massachusetts sees Democrat Elizabeth Warren hoping to unseat Republican incumbent Scott Brown. Ballot initiatives in Maine and Maryland on legalising gay marriage
0200 GMT (2100 EST) polls close in Wisconsin, which has 10 electoral college votes and Colorado, which has nine. Tight Senate race between Democrat Richard Carmona and Republican Jeff Flake in Arizona. Six House of Representatives seats are on the line in Upstate New York.
0300 GMT (2200 EST) polls close in Iowa and Nevada, which both have six electoral college votes
0400 GMT (2300 EST) polls close in California, safely Democratic for the presidential race, but expected to see a number of competitive races for the House of Representatives. It is also holding ballot initiatives on income tax, the death penalty and marijuana
0600 GMT (0100 EST) last of the polls close in Alaska, which should deliver a meagre three electoral college votes to Mitt Romney
If the battleground states with the most electoral college votes all swing towards the same candidate, the overall result could be called early on in the night.
How you can follow it - online
BBC News online is providing across-the-board coverage of US election night to UK and international audiences, with live updates all day on election day, through the night and during the following day.
We will be streaming the BBC's live TV results programme from 2335 GMT (1835 EST) on 6 November and there will be a full results service with live video and key clips for desktop and mobile.
Our live event page presents the latest analysis from BBC editors and correspondents as well as a range of expert views from guest interviewees and other commentators, and a selection of commentary from across the globe.
A host of BBC correspondents are contributing to the BBC's Twitter coverage, including our North America editor (@BBCMarkMardell) and Washington correspondent Jonny Dymond (@JonnyDymond). You can also receive updates about our coverage and links to related content via @BBCNewsUS.
This should make it easier for you to follow relevant tweets from various BBC accounts, and for us to include some of your pictures and video within our coverage on air and online, especially on the 6 and 7 November.
Our BBC correspondents will be reporting from key cities across the US and you can follow some of them on Twitter.
You can also see the latest on the elections and the rest of the global news agenda in any of the BBC's 27 languages.
On television...
There will be a special election night programme hosted by David Dimbleby and Katty Kay on BBC One (for UK viewers) from 2335-0600 GMT (1835-0100 EST).
BBC World News and the BBC News Channel will be carrying the same election programme, followed by extensive coverage of results and reaction.
And World News America will broadcast from 1700-1800 EST on Wednesday, with a programme hosted by Katty Kay (@KattyKayBBC).
...and on radio
Bridget Kendall and James Naughtie will host America Decides, featuring a team of correspondents and experts from across the US. This will be on BBC World Service and BBC Radio 4 from midnight GMT (1900 EST) on Tuesday night.
And on BBC Radio 5live, Richard Bacon presents a special results programme between 2230 GMT and 0500 GMT, from Tampa, Florida. Political correspondent John Pienaar in Washington will explain what it all means for UK voters, while Stephen Nolan and Rhod Sharp also report from two crucial states.