Jimmy Savile: Ex-BBC head Mark Thompson has 'regrets'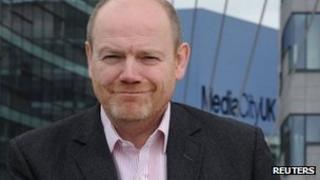 The BBC's former director general, Mark Thompson, has spoken of his regret over the Jimmy Savile sex abuse scandal.
Speaking to The Times, Mr Thompson said he regretted that the dropping of an investigation into the presenter by the BBC's Newsnight may have delayed the launch of a police inquiry.
Mr Thompson is due to take up the chief executive post at the New York Times.
The newspaper's publisher has expressed support for him and says the company is satisfied with his version of events.
Mr Thompson has said he played no part in the Newsnight decision and did not know the full nature of the Savile allegations.
Predatory
Police have launched a criminal investigation into Savile, who died last year aged 84.
They have described him as a predatory sex offender and believe he may have abused many people - including young girls - over a 40-year period.
In the interview with the Times, Mr Thompson said: "Manifestly, I would rather that this very important journalistic story had been brought to air by the BBC rather than ITV. Moreover, that it could have been brought to air sooner... in such a way that the authorities could move sooner.
"In so far as that happened, that's clearly a matter of regret."
He said he had "formed the impression" in December 2011 that Newsnight was investigating "allegations of abuse of some kind" relating to Savile, but was assured the research had been shelved for editorial reasons.
But, he said, it "would have been a good idea" for his press office to draw his attention to articles in six national newspapers in January and February this year which suggested Newsnight had been told to drop the investigation so the BBC could run tribute programmes to Savile over Christmas.
"Trying to understand why there was a row and looking at the decision that was made and doing that some months earlier would have been good," he said.
Mr Thompson is due to begin work at the New York Times on 12 November, but the paper's public editor, Margaret Sullivan, has said it is "worth considering whether he is the right person for the job".
In an interview with the Guardian newspaper, Mr Thompson said Ms Sullivan's view was "completely correct", and that it was "totally reasonable for institutions like the New York Times and the BBC to be free to examine everything, including subjects of corporate interest in the institution itself".
On Thursday the New York Times's publisher Arthur Sulzberger Jr said he and the board of directors believed Mr Thompson possessed "high ethical standards and is the ideal person to lead our company".
In a letter to staff - part of which was published on the paper's website - Mr Sulzberger Jr said Mr Thompson has provided a detailed account of the matter "and I am satisfied that he played no role" in the cancellation of the Newsnight programme.
He added: "As you all instinctively know, but it is worth stating again, we will cover the Savile story with objectivity and rigour. Mark endorses that completely as do I."