US politician's son resigns over 'voter fraud' video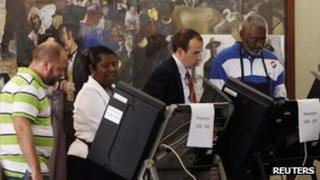 The son of a US congressman in Virginia has resigned from his father's campaign after a secret video showed him discussing possible voter fraud.
In the video, released by activist James O'Keefe of Project Veritas, a man is heard suggesting 100 registered voters' names are used to cast ballots.
In the clip Patrick Moran did not endorse the plan, but nor did he tell the man to discard it.
Democrat Jim Moran's campaign said the incident was an error in judgement.
Jim Moran has served 11 terms in the House of Representatives for Virginia - a key battleground in the US presidential election.
Patrick Moran was a field director for his father's campaign.
In the video clip, dated 8 October and about 27 minutes long, a man approaches him and pitches a scheme in which ballots would be cast using the names of 100 registered voters who hardly ever vote.
Mr Moran eventually tells the undercover activist to "look into it", after expressing doubts about the plan.
On Wednesday, Mr Moran said that he did not take the man seriously and had humoured him, but added that he should have walked away, the Associated Press reports.
Fourteen US states have introduced voter ID laws that supporters say are designed to prevent fraud at the polls. Critics argue the laws make it harder for people, especially the elderly and minorities, to vote.
In Virginia, voters must show identification but it does not need to have a photo.