'Millennium bomber' Ahmed Ressam given longer sentence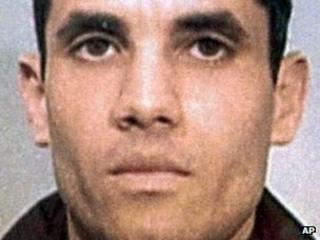 A man convicted of plotting a millennium eve bomb attack on Los Angeles International Airport has been re-sentenced to 37 years in prison.
Algerian Ahmed Ressam was convicted in 2001 of conspiracy to commit a terrorist act and smuggling explosives.
Initially, Ressam co-operated with investigators and was not sentenced.
However, he then stopped co-operating in 2003 and two years later was sentenced to 22 years in jail. In 2010 this sentence was ruled too short.
Prosecutors had pushed for a life sentence because he had recanted his co-operation with authorities, but Ressam's lawyers had argued for a term of up to 34 years.
Ressam was arrested in December 1999 as he crossed the US-Canadian border near Seattle with explosives in the boot of his car.
After his arrest, Ressam reportedly helped the US authorities identify more than 100 people with alleged links to al-Qaeda.
He also provided information about the network's training camps in Afghanistan.
He stopped co-operating with US authorities in 2003 after being placed in solitary confinement, causing attempts to extradite two al-Qaeda suspects to fail.