New York strip club denied 'dramatic art' tax exemption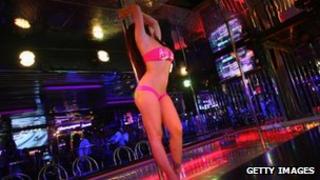 A strip club in New York state cannot claim a tax exemption for the performing arts because lap dances do not promote culture in a community, the state supreme court has ruled.
But the panel of judges was split 4-3.
Some justices noted there was no legal distinction between "highbrow dance and lowbrow dance", and the case raised "significant constitutional problems".
Albany strip club Nite Moves had argued that admission fees and private dances should be exempt from sales tax.
But the majority of judges said the taxes applied to businesses in the entertainment industries, such as amusement parks and sports events.
Nite Moves had not sufficiently proved that its activities were "promoting cultural and artistic performances in local communities", they added.
Lawyers representing the club said their client was very disappointed by the court's ruling.
"We thought they were listening, and some of them were," lawyer W Anderson McCullough told the Associated Press news agency.
The New York State Department of Taxation and Finance has maintained throughout the legal proceedings that the strip club did not qualify under the current exemptions for dramatic and performing arts.
The department's spokesman, Cary Ziter, said Nite Moves originally owed the state $124,000 (£77,000) in tax plus interest.