Iran dismisses US nuclear talks New York Times report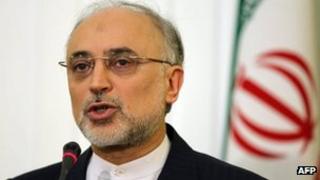 Iran has denied a report in the New York Times saying that it had agreed to one-on-one talks over its controversial nuclear programme with the US.
"We don't have any discussions or negotiations with America," Iranian Foreign Minister Ali Akbar Salehi said.
The New York Times' report was also described as inaccurate by the US.
The report, quoting unnamed officials, said Iran had agreed to the talks for the first time but would not hold them until after US elections on 6 November.
Western states think Iran is seeking nuclear weapons - a claim denied by Tehran.
Iran has been a key foreign policy topic in the US election campaign.
No breakthrough
"The (nuclear) talks are ongoing with the P5+1 group of nations. Other than that, we have no discussions with the United States," Mr Salehi told reporters on Sunday.
He was referring to the negotiations with the five permanent UN Security Council members - Britain, China, France, Russia and the US - and also Germany.
Several rounds of talks this year have failed to yield any breakthrough.
Earlier on Sunday, US National Security Council spokesman Tommy Vietor said that it was untrue that Washington and Tehran had "agreed to one-on-one talks or any meeting after the American elections".
"We continue to work... on a diplomatic solution and have said from the outset that we would be prepared to meet bilaterally," the spokesman added.
In its report, the New York Times said the US and Iran had agreed to one-on-one negotiations "in principle".
Western nations have used increasingly harsh sanctions in an effort to pressure Iran over its nuclear programme.
President Barack Obama and Republican challenger Mitt Romney will hold their third and final campaign debate on Monday, on the subject of foreign policy.
Mr Romney has accused Mr Obama of being too soft on Iran.
Mr Obama opposes a near-term military strike by the US or Israel on Iran's nuclear facilities, but says he is determined to stop Iran from building a nuclear bomb.
"The president has made clear that he will prevent Iran from getting a nuclear weapon, and we will do what we must to achieve that," Mr Vietor said.
"The onus is on the Iranians to do so, otherwise they will continue to face crippling sanctions and increased pressure."