George McGovern, Richard Nixon challenger, dies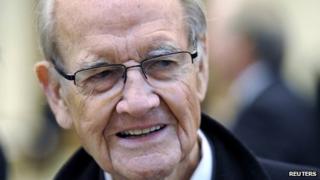 Former US Senator George McGovern, who stood as the Democratic presidential candidate against Richard Nixon in 1972, has died, aged 90.
His family said he was in a hospice in Sioux Falls, South Dakota, and slipped out of consciousness three days ago.
A liberal standard-bearer, McGovern was a vocal opponent of the Vietnam War, but lost to Nixon by a landslide.
Paying tribute, President Barack Obama described him as "a statesman of great conscience and conviction".
Former President Bill Clinton, who was McGovern's campaign worker in 1972, and US Secretary of State Hillary Clinton said in a joint statement that the former senator "worked to advance the common good and help others realise their potential".
Republican presidential candidate Mitt Romney, who is running against Mr Obama in next month's election, described McGovern as "the unwavering standard bearer of his party and a hero of World War II", referring to his service as a US Air Force pilot.
'Leading voice'
In a statement, McGovern's family said the former senator died on Sunday morning.
"We are blessed to know that our father lived a long, successful and productive life advocating for the hungry, being a progressive voice for millions and fighting for peace."
He was admitted to hospice care earlier this month with a "combination of medical conditions, due to age, that have worsened over recent months", his family said at the time.
McGovern was first elected to Congress in 1956.
His bid for the presidency in 1972 was marred by what later emerged as a dirty-tricks campaign by President Nixon's re-election committee, including the break-in at Democratic National Headquarters in the Watergate Hotel, in Washington DC.
Nixon, who already enjoyed an advantage throughout the campaign, won a second term in one of the biggest landslides in modern US history.
However, he resigned in 1974 after the scale of the Watergate scandal became clear.
McGovern made two other brief attempts to obtain the Democratic nomination in 1968 and 1984.
At the time, he was seen as a leading voice of the Democratic party's liberal wing.
After four years in the House of Representatives, he was one of the senators for South Dakota from 1963 to 1981.
He helped create the Food for Peace programme, which sent US food overseas as a form of international aid, and became its first director in 1961.
Despite his failure to unseat Nixon, he left a lasting mark on US politics.
"I believe no other presidential candidate ever has had such an enduring impact in defeat," Mr Clinton said in 2006 at the dedication of McGovern's library in Mitchell, South Dakota, according to the Associated Press.
"Senator, the fires you lit then still burn in countless hearts."