NHL cancels 53 games as labour dispute talks stall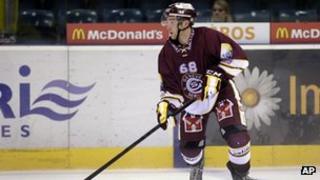 The National Hockey League (NHL) has cancelled an additional week of its season - 53 games - amid an ongoing labour dispute with its players' union.
The NHL has now cancelled all games through 1 November, a total of 135 games, or 11% of the season.
The two sides are still far apart on a key issue in contract talks - how much players should receive of $3bn (£1.9bn) revenue the matches bring in.
The league says a full season is still possible if play begins by 2 November.
A deal must be reached with the union by 25 October for that to happen. Two weeks ago, the league called off 82 games scheduled to be played between 11 and 24 October.
The US and Canadian ice hockey league cancelled the additional games after rejecting three counter-offers from the players' union.
NHL Commissioner Gary Bettman said he was "thoroughly disappointed" and added the owners' proposal was the "best that we could do".
The union rejected the NHL's proposal on Wednesday that offered a 50-50 split of hockey-related revenues and ensured a full regular-season schedule.
A recently expired contract gave players 57% of hockey-related revenue.
In brief talks, the players countered with a trio of offers that were, in turn, quickly dismissed by the league.
"It's clear we're not speaking the same language," Mr Bettman said.
A labour dispute seven years ago saw the entire 2004-2005 season cancelled.