Fort Hood suspect Nidal Hasan loses beard appeal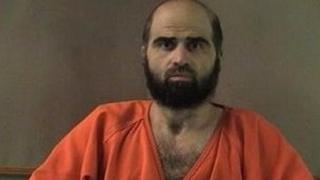 A man accused of killing 13 people at a Texas army base has lost his appeal to wear a beard during his murder trial.
The US Army Court of Criminal Appeals upheld a military trial judge's decision to order Major Nidal Hasan to appear clean-shaven in court.
His lawyers say they will appeal to a higher military court, putting his court martial on hold.
He is accused of opening fire on soldiers preparing for deployment at Fort Hood, Texas in November 2009.
Thirty-two people were injured in the attack. Maj Hasan, an army psychiatrist, faces 13 counts of pre-meditated murder and 32 counts of attempted pre-meditated murder.
The rampage was the worst of its type at a US military base and he could face the death penalty if convicted.
Maj Hasan argues he had grown a beard, against US Army regulations, in compliance with his Muslim faith.
But a military judge said the 41-year-old had failed to prove sincere religious reasons for wearing the beard.
The US Army appeal court agreed with his decision: "In front of a military panel, it is undeniable that failure to comply with Army grooming regulations would cast him in a negative light," a majority of judges wrote in their ruling on Thursday.
If the ruling holds and Maj Hasan appears in court wearing a beard, he would be forcibly shaved.