Jerry Sandusky appeals for abuse new trial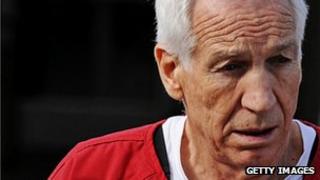 Former Penn State football coach and convicted child molester Jerry Sandusky has filed an appeal, requesting a new trial and a change in sentencing.
Sandusky was sentenced to at least 30 years in prison for sexually abusing young boys over more than a decade.
His lawyers argue they were not given enough time to prepare and there is not enough evidence to support convictions.
Sandusky's November 2011 arrest triggered a crisis at the US university famed for its football programme.
In addition to requesting a new trial, defence lawyers said in their appeal that the 30 to 60 year sentence imposed on the 68-year-old was "excessive, and tantamount... to a life sentence".
A spokesman for the Pennsylvania attorney general's office said the appeal was under review.
Sandusky is currently in a county jail in Pennsylvania, awaiting a transfer to a state prison to serve time for 45 criminal convictions.
He has repeatedly professed his innocence, including in a recording released before his recent sentencing in which he lashed out at one of his accusers.
Sandusky molested boys he met through the Second Mile, a charity he founded for at-risk youth. The trial heard that the boys were abused at Sandusky's home, in hotels and at Penn State athletic facilities.
Eight men aged between 18 and 28 testified during a trial lasting almost two weeks, providing graphic details of their ordeals.