George McGovern is gravely ill, his family says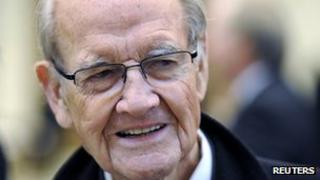 Former US presidential candidate George McGovern is "no longer responsive" in hospice care, his family has said.
The 90-year-old is "nearing the end", his daughter, Ann, told the Associated Press news agency.
He appears restful and peaceful, and is surrounded by members of his family at the Avera McKennan Hospital in Sioux Falls, South Dakota, she added.
Mr McGovern challenged Richard Nixon for the White House in 1972, running on an anti-Vietnam War platform.
Earlier, he served in the Senate for South Dakota from 1963 to 1981 and was a member of the House of Representatives between 1957 and 1961.
At the time, he was seen as a leading voice of the Democratic party's liberal wing.
Mr McGovern was admitted to hospice care "with a combination of medical conditions, due to age, that have worsened over recent months", his family said in a statement.