Suspect's father says New York bomb plot charge 'false'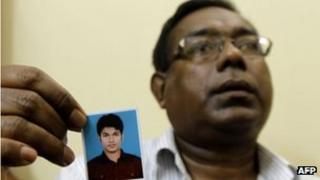 The father of a Bangladeshi man accused of plotting an attack at the New York Federal Reserve has told the BBC the allegations are "totally false".
Speaking from his home in Bangladesh, Quazi Mohammad Ahsanullah said his son was "totally innocent".
Quazi Mohammad Rezwanul Ahsan Nafis, 21, was arrested after he allegedly attempted to detonate what he thought was a 1,000lb (454kg) bomb.
There was no public threat, officials said, as he had been closely watched.
Mr Nafis arrived in the US on a student visa in January, purporting to be studying in Missouri, authorities said.
'Victimised'
He was charged on Wednesday with attempting to use a weapon of mass destruction and plotting to provide material support to al-Qaeda.
Speaking to the BBC's Anbarasan Ethirajan in Bangladeshi capital Dhaka, the suspect's father said he had been told about his son's arrest earlier on Thursday.
"He is completely innocent. He went to the United States only to study. Not to do any kind of activity. He is my only son," Mr Ahsanullah said, adding that Mr Nafis was very shy.
Breaking down repeatedly as he spoke to our correspondent, Mr Ahsanullah said his son had spoken to his mother almost every day over Skype.
"I am 100% sure that he had no contact with anybody. He has been victimised.
"I haven't had any contact with my son since yesterday. I am trying to contact. I don't know how to do it. I am now requesting the Bangladeshi government to bring my innocent son back to the country."
According to a complaint filed in New York, Mr Nafis sought out people to help him with the attack - one of those he contacted turned out to be an FBI source.
Mr Nafis was placed under surveillance, and the undercover FBI agent sold him 20 bags of what he said were 50lb of explosives. The suspect then bought and assembled detonators and timing devices.
The arrest is the latest in a series of so-called sting operations run by the FBI and anti-terror authorities in the US.
The head of the New York Police Department said the incident was likely to put the Federal Reserve building on the police department's list of "iconic targets".
The building, housing a branch of the US central bank, is located in downtown Manhattan in New York City, just a few blocks from the World Trade Center complex in the city's financial district.