Obama v Romney: Audience views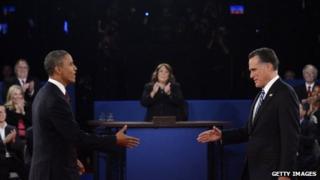 Audience members got to ask Barack Obama and Mitt Romney their questions directly during the town-hall style debate on Tuesday. So what did they make of the answers?
Phil Boyle
Romney's answers were more concise.
He did not dominate as much as he did in the first debate, but he certainly won this debate.
He articulated his vision for what he wants to do with America over the next four years and President Obama, to be honest, had a very difficult time explaining his last four years and his vision is not as impressive as Romney's.
Obama had a little more life in him than the first debate, but I still think that Governor Romney won the debate.
I was leaning Romney, but if Obama had won I would've been honest about it.
Achta Kabadi
Obama actually won the debate this time because I felt that he was really aggressive.
This time he really advocated his points and he proved to the nation and everyone why he should get another four years.
He did what Romney did to him last time, interrupting him.
Romney came across as really rude. When people were trying to tell him it wasn't his time, he kept on interrupting and he came across as self-absorbed.
Caron Bricks
Obama won.
It was really clear, especially from the audience. You could tell a lot of the support was bashing Romney, making fun of things that he was saying.
Romney just couldn't answer questions, stumbling over his words a lot, he couldn't piece together his thoughts.
Obama really showed the great orator that he is, and was really able to piece together some great ideas and show what he wants to do in the next four years.
George Tsunis
The president won, hands down.
He just has an easier task in that he's more credible. Even people who like Romney will tell you that he has a different position every day.
If you went to a restaurant it would be position du jour, and if you're not quite happy with his position today, just wait till tomorrow.
Mitt Romney does a very good game of showmanship. He'd be excellent in the theatre, but the fact of the matter is that when you're president of the United States you can't keep changing position to suit your audience.
You can't have a position during the primaries that's different from your position when you were governor of your state, that's different from your position now in the general election.
Gene Bernardo
Both men were very prepared.
Obama was much more forceful than he was in the last debate, but still I think he's fighting an uphill battle based on his record.
Romney has continued to point out that this country is in economic hardship and I think he set forth strongly that he probably has the best plan to move it forward.
But on stylistic points I thought it was a draw, but I'm leaning towards Romney.