US envoy in Libya Christopher Stevens honoured at memorial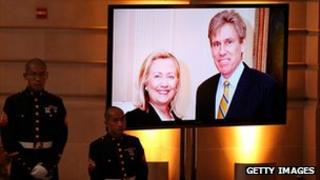 Hundreds of mourners have attended a memorial service in San Francisco for Christopher Stevens, the US ambassador to Libya killed in an attack in Benghazi last month.
The Libyan ambassador to Washington, Ali Aujali, described him as a "friend and hero" and apologised for his death.
Mr Stevens died of smoke inhalation when he was trapped in the burning consulate building.
Three other US officials were killed and three wounded.
Tuesday's service in the marble rotunda at San Francisco's City Hall was attended by former US Secretary of State George Shultz, California Congresswoman Barbara Lee and Senator Dianne Feinstein.
"On behalf of the Libyan government, we are very sorry. You sent us one of your best diplomats, but unfortunately, we were unable to protect him," Mr Aujali told Mr Stevens's family and friends.
"He is part of Libyan history, the revolution. We lost a friend and a hero."
The service began with the national anthem and speakers included retired US Ambassador Thomas Pickering, who is heading a State Department panel investigating the attacks.
Mr Shultz said: "Christopher Stevens stood out as extraordinary in an already extraordinary group of people.
"Democracy is not a spectator sport and Christopher Stevens was a full participant in his beloved democracy."