Supreme Court allows Ohio early voting to continue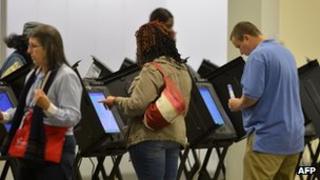 The US Supreme Court has refused to hear an appeal by the state of Ohio to limit early voting leading up to election day on 6 November.
The decision effectively hands a victory to the Obama campaign, which sued state officials to restore voting on the weekend before the election.
Last week, an appeal court reinstated in-person voting until 5 November.
Ohio is one of several key states seen critical to either candidate's winning prospects.
"Despite the court's decision today to deny our request for a stay, I firmly believe Ohio and its elected legislature should set the rules with respect to elections in Ohio, and not the federal court system," Ohio Secretary of State John Husted, the state's top elections official, said in a statement.
"However, the time has come to set aside the issue for this election," Mr Husted said, ordering uniform hours for all counties.
Ohio lawmakers had initially planned to end early voting on 2 November, the Friday before the election, except for absentee ballots posted in by members of the military or overseas voters.
The Obama campaign and state Democratic officials argued that eliminating the opportunity for most Ohio residents to vote in person on those days while allowing absentee ballots led to unequal treatment.
Nearly 105,000 people voted in the three days before the election in 2008, according to the Democratic lawsuit.
Republicans opposed their efforts, saying a cutoff for in-person voting was needed to reduce voter fraud.
Correspondents say early voting and extended voting hours are thought to benefit Democratic candidates because lower-income people, who tend to vote for the party, are more likely to work odd hours.
Fifteen states, including Virginia, Colorado and Wisconsin, joined with Ohio in opposing the appeals court's decision.