Air Canada flight finds Sydney yacht in Tasman Sea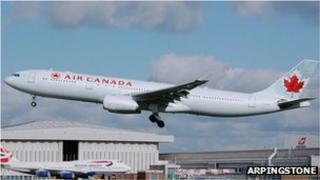 An Air Canada passenger flight bound for Sydney has helped locate a yacht in distress in waters between Australia and New Zealand, authorities say.
Flight AC033 was diverted by the Australian Maritime Safety Authority (AMSA) after it spotted an emergency beacon activated in the Tasman Sea.
Pilots descended to 1,800m (5,905ft) altitude and used a passenger's binoculars to find the vessel.
The boat and its lone sailor was found about 500km (310 miles) east of Sydney.
The yachtsman reportedly left the Sydney area about two weeks earlier and had been drifting for about one week after losing his mast and running low on fuel.
Remote location
The emergency beacon was spotted at about 08:15 local time on Tuesday (21:15 GMT on Monday), AMSA said.
The Air Canada flight from Vancouver, with 270 passengers and 18 crew aboard, was diverted about 12 hours into the flight. It flew an additional 400km as a result of the diversion.
The plane landed in Sydney some 90 minutes behind schedule, an Air Canada spokesman told the Globe and Mail newspaper.
"We're really pleased we could help," spokesman Peter Fitzpatrick said, adding that weather conditions - and not the diversion - had been the main cause of delay.
Later, an Air New Zealand Airbus 320 en route to Sydney from Auckland was also diverted before an Australian rescue plane arrived and dropped a life raft and satellite phone down to the stranded seaman.
A merchant vessel was also asked to shield the boat from strong winds until a police vessel could reach the sailor.
An AMSA spokesman told the Australian Broadcasting Corporation that the help of the passenger jets had been needed because of the remote location of the yacht.
"The location of the beacon was within a flight path, so we needed to assess the situation and the Boeing 777 was the closest asset available to us," Jo Meehan said.
The sailor is believed to be safe and healthy, authorities said.