US meningitis investigation widens to two other drugs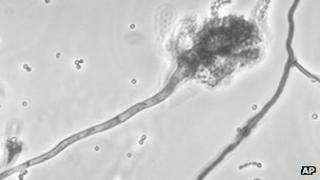 Two additional drugs made by a US pharmacy may be linked to a deadly fungal meningitis outbreak, US health officials say.
The steroid triamcinolone as well as a heart drug, both made by the New England Compounding Center (NECC), are now under investigation.
The Food and Drug Administration (FDA) has warned doctors not to use any of the company's products.
More than 200 people in 15 states have been affected, and 15 people have died.
Meningitis is an inflammation of the membranes covering the brain and spinal cord. Symptoms include severe headache, nausea and fever as well as slurred speech and difficulty walking.
Fungal meningitis is not contagious, according to US health officials.
Transplant drug link?
The outbreak has raised questions about the practice of drug compounding, where pharmacies prepare specialised doses of medication. Compounding is not regulated by the FDA, which generally oversees drug makers.
NECC has suspended operations and recalled the steroid injection initially linked with the outbreak, methylprednisolone.
In a statement on Monday, the firm said it continued co-operate with the investigation.
The Food and Drug Administration says it is looking into reports of a patient with possible meningitis who received an injection of triamcinolone, a different steroid, from NECC.
Two transplant patients also developed a fungal infection after receiving an unnamed heart drug made by the firm.
The FDA has not confirmed that these three infections were caused by NECC products, and has said that it is very possible that the heart patients were infected by another source.
On Monday, the drug regulator expanded its recommendation for doctors to warn anyone who received any injection made by the company, including drugs used in eye surgery.
Last week, health officials said 12,000 of the roughly 14,000 people in 23 states who received the steroid shots had been contacted.
The CDC has published a list of clinics that received shipments of the drug, which was recalled on 26 September.