US election: Six crucial Senate races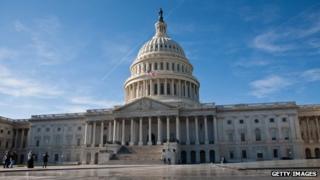 Much of the world is focused on the US presidential election, as the long race winds into its final weeks. But the Republicans and Democrats are also engaged in another hugely significant contest on 6 November, one sprinkled with several colourful characters.
Control of the US Senate is up for grabs, says Jennifer Duffy, senior editor of the Cook Political Report.
"The Democrats could lose their majority, or if they don't, their majority is going to be pretty slim."
The Democrats currently hold a 53-47 majority in the upper house, the Senate, meaning the Republicans only need to win four more seats to take control.
The Republicans are expected to keep their hold on the lower house, the House of Representatives.
That means if Obama is re-elected, he will want the Democrats in charge in the Senate to block the House Republicans, says Ms Duffy.
And if Mr Romney wins, a Republican Senate would give his party control of both houses plus the White House.
"The Senate in so many ways is going to control policy, because it's where legislation goes to live or die," she says.
There are 33 Senate seats up for grabs. Here are six interesting races to watch.
Policy wonk v model
Massachusetts is one of the deepest blue states in the US.
So when iconic liberal Democratic Senator Ted Kennedy died in late 2009, the state upended the national political scene by electing Scott Brown, a likeable centrist Republican, to fill in the last two years of his term.
Mr Brown, a former fashion model who once posed nude in a women's magazine, is now running for a full term. He casts himself as a moderate and emphasises his independence from the national Republican party, which is far too conservative for Massachusetts voters.
Challenging him is Elizabeth Warren, a liberal Harvard professor known in Washington for designing a new consumer protection law and for the rage she provokes among conservatives.
Mr Brown is a more natural and skilled politician, and has sought to portray his rival as a Harvard snob and himself as a man of the people.
Ms Warren, who is originally from Oklahoma, has been dogged by allegations she misrepresented herself as a Native American to gain favourable employment consideration earlier in her career.
She has never shown evidence of any Native American ancestry, and Mr Brown says the affair shows she is dishonest, but her siblings have backed up her claim.
With President Obama expected to win Massachusetts by as many as 20 points, Ms Warren is certain to benefit from the turnout in Democratic voters.
The 'legitimate rape' controversy
This summer, Senator Claire McCaskill, a Democrat running for her second term, was in big trouble.
Missouri has been growing increasingly conservative and Republicans seemed to have succeeded in shackling her to President Barack Obama's unpopular policies.
And last year, it emerged Ms McCaskill had taken public funds to reimburse her for flights on a private plane she owned with her husband, and also had not paid tax on the plane.
But Ms McCaskill had a stroke of luck in August when her Republican opponent Todd Akin, an anti-abortion congressman, declared on a television chat show that women who are victims of "legitimate rape" have biological defences to prevent them becoming pregnant.
Mr Akin was roundly denounced by Republicans across the country, party leaders began pushing for him to drop out of the race, and funding dried up.
Polls suggest he fell behind but has now recovered ground and if Republican cash begins flowing back toward him, it could be a very close race.
Showdown in the West
In the race to replace retiring Republican Senator Jon Kyl in historically conservative Arizona, the Democrats have nominated a man with a resume seemingly crafted by a Hollywood screenwriter.
Richard Carmona is a doctor who served as surgeon general under President George W Bush.
A New Yorker, Mr Carmona is a decorated combat veteran of Vietnam and former sheriff's office Swat team leader. His campaign biography announces he once rappelled from a helicopter onto the side of a mountain to rescue a crash survivor.
On the Republican side is Congressman Jeff Flake, a fifth-generation Arizonan who was born in a town named after his great-great-grandfather. He was first elected to the House of Representatives in 2000.
Arizona last elected a Democratic senator in 1988. But the state's Hispanic population has boomed in recent years and Arizona's tough, Republican-led anti-illegal immigrant policies have put many off.
Democrats hope Mr Carmona, who is Puerto Rican, will appeal to enough Hispanic voters to make up the deficit among white Republicans.
The storm in a Tea Party
In Indiana, the Republican-aligned Tea Party movement's anti-establishment bent has turned a safe Republican seat into a competitive one.
In May, Republican voters sent veteran Republican Senator Richard Lugar, a distinguished member of the chamber first elected in 1976, into retirement in a party primary election.
Mr Lugar was no liberal, but Tea Party members deemed him too conciliatory toward the Democrats.
The veteran senator, who had not faced a serious contest in decades, suddenly found himself painted as out of touch with the state and blasted for merely getting along with the despised Democrats, for example by co-operating on issues like nuclear weapons proliferation.
State Treasurer Richard Mourdock, backed with money from national conservative groups, defeated him with 61% of the vote.
The best hope for Congressman Joe Donnelly, the Democratic candidate, is that Indiana general election voters may not have the stomach for a man who has pledged not to compromise with Democrats at all.
The heavyweight slugfest
The Virginia race to replace retiring Democratic Senator Jim Webb is the season's marquee heavyweight political punch-up.
It features two men well known on the national and state political stages. Both are former Virginia governors.
Virginia is a presidential swing state, too, so the presidential campaigns and party networks are pouring money and resources in to sway voters and get them to the polls.
Republican George Allen is a former US senator who lost his seat in 2006 to Mr Webb.
Mr Allen began the 2006 race a deep-pocketed favourite. But he critically damaged his own candidacy when he was caught on camera describing an Indian-American campaign worker in terms that were criticised as racist.
This year's Democrat candidate is Tim Kaine. Mr Kaine was an early supporter of Barack Obama and later served as chairman of the Democratic National Committee.
Mr Allen's campaign had tried to tie Mr Kaine to the president, hoping Mr Obama's tepid popularity might drag Mr Kaine down.
That tactic appears to have failed, as Mr Obama has proven competitive in state polls.
The wrestling mogul
The race to replace retiring Senator Joseph Lieberman in the wealthy liberal-leaning New England state of Connecticut features a former professional wrestling mogul who once kicked a male employee in the groin before an audience of screaming young men.
Linda McMahon made millions running World Wrestling Entertainment, known for its beefcake performers, women in skimpy costumes and attacks with metal folding chairs.
In 2010, Ms McMahon financed her own run for the state's other Senate seat and outspent veteran Democratic politician Richard Blumenthal by more than $40m (£25m).
A political novice, she seemed not to connect with voters, especially women. Mr Blumenthal blasted her for sexism, violence and the use of steroids in the wrestling league, and she was soundly defeated.
This year, Ms McMahon has run a much stronger campaign, working to improve her appeal to women voters and soften the image she earned as a wrestling impresario.
The Democrats are running Christopher Murphy, a 39-year-old congressman in his third term.