Cruiser collides with nuclear sub off US East Coast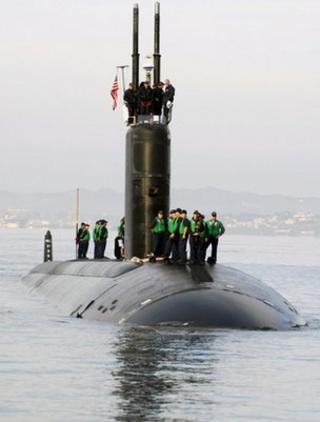 A US cruiser has collided with a nuclear submarine during naval exercises off the Atlantic coast, reportedly damaging sonar equipment.
Nobody was hurt during the incident on Saturday afternoon and both vessels were still able to operate under their own power afterwards, the navy said.
A spokesman said such collisions were "fairly rare" and an inquiry has begun.
An anonymous naval source told Reuters the collision had caused the cruiser's sonar dome to collapse.
The dome is a bulbous, rubber device on the bow of the ship beneath the water line.
The navy named the cruiser as the Aegis cruiser USS San Jacinto and the submarine as the Los Angeles-class USS Montpelier.
According to the Reuters source, the watch team aboard the San Jacinto saw a periscope rise from the water about 100 to 200 yards (metres) ahead of the vessel. The cruiser ordered "all back" but too late to avoid a collision.