Election silence over Trayvon Martin and America's guns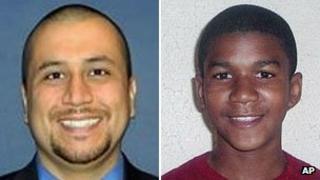 It has been one of the biggest stories in America this year, but the BBC's Raphael Rowe found there is one subject that neither candidate in this year's presidential election wants to talk about - guns.
The shooting death of black teenager Trayvon Martin by George Zimmerman in a gated community in Florida in February led to a fierce debate about racial profiling, justice and the easy availability of guns.
It also raised questions not just about America's gun culture, but the lobby effort that led to the creation of the so-called "stand your ground" laws that we have come to learn so much about.
They are now in place in 24 states, with Florida being the first.
The law expands on a centuries-old British legal principle that permits the use of deadly force in self-defence of your own home. It also grants immunity from arrest, detention and prosecution.
Under Florida's "stand your ground", Mr Zimmerman was initially freed without charges, but following an outcry that included street protests reminiscent of the civil rights movement, the local police chief was sacked and the prosecutor quit the case.
Gun lobby
After a further review, Mr Zimmerman was charged six weeks later with second degree murder and is currently free on bail awaiting trial. His lawyers say their case will be based on self-defence, not stand your ground, arguing that their client was being attacked when he fatally shot the 17-year-old schoolboy.
Professor Mark Hoekstra of A&M University in College Station, Texas, said making the use of deadly force permissible has come at a price. He studied its effect in 21 states.
"In terms of homicides, what we show… there is about an 8% increase in the homicide rate caused by these laws… that is about 600 additional homicides per year."
Florida's bill was co-written by the National Rifle Association (NRA), the powerful pro-gun lobby that has a membership of almost 4m and an annual budget of $300m (£187m).
Their efforts have been largely successful. In most states, anyone over 18 can walk into a gun shop and buy a gun. The number of guns that are privately owned in America is staggering, there are 90 guns for every 100 people and carrying a concealed weapon is legal in 49 states across America.
In Florida, George Zimmerman was legally carrying a concealed handgun on the night Trayvon Martin was killed.
Influence
The driving force behind the rollout of "stand your ground" bills in legislatures across America was an umbrella organisation called the American Legislative Exchange Council (ALEC), a conservative, pro-business group that receives funding from the NRA and is 98% funded by corporate and sponsor donations.
With a $7m budget (£4.4m) and more than 2,000 members or sponsors, the NRA took its model bill to ALEC to push upon state legislators.
The Trayvon Martin killing has caused critics to claim that ALEC has undue influence, and question what they say is an unhealthy relationship between legislatures, the NRA and corporate America.
Lisa Graves, executive director of the Center for Media and Democracy, called ALEC a "corporate bill mill" and said large corporations - including large British-based multinationals such as BP, GlaxoSmithKline and AstraZeneca - that give money to ALEC are helping to fund their lobbying efforts, regardless of whether or not they have any interest in being part of the pro-gun lobby.
"Their money helps support ALEC's overall operations, its propaganda machine and its efforts to get these bills pushed in state houses across the country."
In a statement, ALEC said it has disbanded its committee that pushed "stand your ground" laws out to legislators and has no current policies on the law.
BP, GlaxoSmithKline and AstraZeneca told Panorama they have had no involvement in supporting the "stand your ground" laws.
Politicians 'afraid'
Scott Maxwell, a columnist for the Orlando Sentinel newspaper who has covered the Trayvon Martin killing extensively, said the level of influence of groups such as ALEC is worrying.
"We've reached a point in this… country where legislators and congressmen aren't the ones writing their bills any more... the corporations or these think tanks are and that's a scary thought… in some regards democracy is increasingly in this country, for sale."
Despite other recent high-profile gun crimes, including June's mass shooting that left 12 people dead in Colorado during a screening of the new Batman film, the wider issue of gun control, the reach of the gun lobby and the "stand your ground" laws are all seemingly off-limits in this election season.
While both President Barack Obama and Republican nominee Mitt Romney spoke out about a search for answers amid the media storm that followed the Trayvon Martin shooting - which took place in a key battleground state - the silence since has been notable.
Political columnist Roger Simons gave his take on the reasons why the two presidential candidates remain silent: "They're afraid, they are afraid to lose voters. It is the rare politician in America, even liberal politicians, who will vocally support increased gun control."
Panorama: Kill at Will? America on Trial is on BBC One, Monday, 15 October at 20:30 BST and then available in the UK only on theBBC iPlayer.