Washington zoo panda cub died of liver necrosis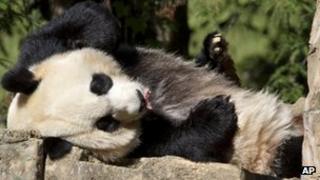 A giant panda cub born at Washington DC's National Zoo that died a week after it was born had liver and lung damage, zoo officials say.
Suzan Murray, the zoo's chief veterinarian, said the female cub's cause of death was liver necrosis.
Staff were first alerted to the cub's plight after its mother, Mei Xiang, was heard making "distress" sounds.
The 16 September birth was a surprise because it had not been clear whether Mei Xiang was still fertile.
Zoo officials were devastated by the death, which happened just a week later, and initial necropsy results showed fluid in the cub's abdomen as well as liver abnormalities.
On Thursday, Dr Murray said the cub's lungs were also underdeveloped and probably did not provide enough oxygen to the liver.
The National Zoo has a five-year agreement with China to keep the cub's mother and a male panda named Tian Tian until the end of 2015.
Dr Murray will travel to China this month to discuss whether both pandas will be kept in Washington or whether one or both will be swapped out for the next breeding season. A decision is expected in November.
Don Moore, the zoo's associate director for animal sciences, told reporters that after spending almost four weeks in her den, Mei Xiang has begun showing less mothering behaviour, including cradling a toy.