Abu Hamza denies US terror charge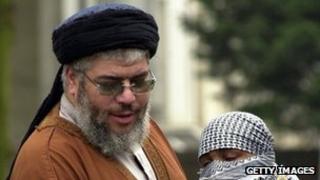 Radical Islamist cleric Abu Hamza has pleaded not guilty to terror charges in a New York court.
He told a judge he denied charges that he had conspired with US nationals to set up a terrorist training camp in the state of Oregon.
District Judge Katherine Forrest set a date of 26 August 2013 for Abu Hamza's trial, at which he will also face charges of abducting tourists in Yemen.
Earlier, two men extradited from the UK with Abu Hamza also appeared in court.
Khaled al-Fawwaz and Adel Abdul Bary are charged with participating in the bombings of embassies in Tanzania and Kenya in August 1998.
They will face trial in October 2013, reports say.
The three men were extradited from the UK last week along with another pair, Babar Ahmad and Talha Ahsan, following a long legal battle.
No hook
Abu Hamza al-Masri faces 11 charges in the US relating to hostage-taking, conspiracy to establish a militant training camp in the US and calling for holy war in Afghanistan.
He is being tried under the name Mustafa Kamel Mustafa, and the trial is expected to take six to eight weeks.
His only statement during Tuesday's hearing was to confirm to Judge Forrest that he wanted to plead not guilty, AFP reported.
He wore a blue prison uniform and appeared again without his customary hook, the prosthetic he wears in place of one hand.
The hook was removed by US authorities after he was extradited from Britain last week. On Tuesday, his lawyer said he had been given some access to the hook, but not all the time.
The BBC's Alastair Leithead in New York says that Abu Hamza's lawyers told the judge they needed more time to prepare, as the prosecution has been building their case for eight years - ever since the US first requested Abu Hamza's extradition.
Prosecutors said they would hand over 8,500 documents and video recordings relating to the case, as well as four hard drives and 24 DVDs of material.
Abu Hamza is being held in the same federal prison where where a guard lost an eye and was left brain damaged when he was stabbed with a sharpened comb in 2000 by a terror suspect.
Mr Bary and Mr al-Fawwaz are charged with conspiring with members of al-Qaeda to kill US nationals and attack US interests abroad. Their trial was set for October 2013.
Mr Bary is also charged with murder and other offences relating to the 1998 bombings of the US embassies in Kenya and Tanzania.
Two others extradited from England, Mr Ahmad and Mr Ahsan, were charged in 2004 and 2006 respectively, for offences related to the operation of a website supporting terrorism in Afghanistan and the Russian region of Chechnya.