Jerry Sandusky speaks out against accusers in jail tape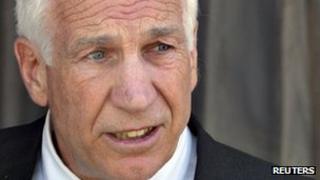 Former Penn State coach Jerry Sandusky has spoken out against his child abuse accusers in a jail recording on the eve of his sentencing, US media report.
Sandusky, who was convicted of 45 counts of molesting boys in June, denies being a monster in the tape.
The 68-year-old's lawyer, Joe Amendola, says his client is likely to proclaim his innocence again as he learns his fate in court on Tuesday.
Sandusky's arrest in November triggered a crisis at Penn State University.
The institution's president and legendary football coach Joe Paterno were both fired as the scandal unfolded.
'Well-orchestrated effort'
Sandusky could spend the rest of his life in prison, with a potential sentence of between 10 and 400 years.
"They can take away my life, they can make me out as a monster, they can treat me as a monster, but they can't take away my heart," Sandusky says in a recording broadcast by campus radio station Penn State Com.
"In my heart, I know I did not do these alleged, disgusting acts. My wife has been my only sex partner and that was after marriage. Our love continues," Sandusky said.
In the audio clip, Sandusky appeared to lash out at one of his accusers.
"A young man who was dramatic, a veteran accuser, and always sought attention, started everything," the former coach said.
"He was joined by a well-orchestrated effort of the media, investigators, the system, Penn State, psychologists, civil attorneys and other accusers. They won.
"I've wondered what they really won: attention, financial gain, prestige will all be temporary. Before you blame me, as others have, look at everything and everybody."
He is expected to address the court during his sentencing hearing on Tuesday.
His lawyer told the Associated Press it is "as certain as certain can be" that the former football coach will insist he is innocent.
Some Sandusky friends and family members have written letters in support of him to the judge, and the disgraced former coach's wife, Dottie, is expected to attend the hearing.
Sandusky was convicted on 45 out of 48 counts of sexually abusing 10 boys over 15 years.
He molested boys he met through the Second Mile, a charity he founded for at-risk youth. The trial heard that the boys were abused at Sandusky's home, in hotels and at Penn State athletic facilities.
Eight men aged between 18 and 28 testified during the nearly two-week trial, providing graphic details of their ordeals.
In addition, two Penn State administrators are awaiting trial for failing to report the suspected abuse and lying to a grand jury.
Penn State had boasted one of the proudest football traditions in the country.