Mardell: Good reads for the weekend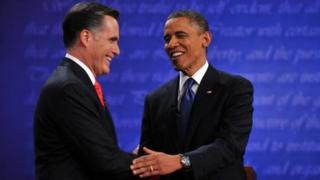 There's a central mystery about the president - why this terrific orator, the self-invented narrator of his own life - can turn out such awful performances.
This unconvincing, unenthusiastic, wordy Obama was on display in the debate, as at the Democratic convention.
I suspect it is a combination of a lack of relish for the job ahead and a strategy of presidential calm gone somewhat awry.
But sometimes I think it must be something deeper and Garance Franke-Rutatre has some interesting thoughts on the president's lame performance.
It is also worth reading an article that James Fallows wrote, also in The Atlantic, before the debate. He's too good to gloat but he could afford to be smug - it is all about why Mitt Romney might prove to be formidable.
Gulf dividing society
Also, before the debate there was a brief media flurry about a five-year-old video of President Barack Obama, talking at a black college. The reaction displays the huge gulf that divides this society.
Some of this is pretend outrage for political purposes, but some of it is genuine.
High on the list of disputed interpretations is race. What seems an unexceptional description of the facts to most African Americans and liberals is seen by some white conservatives as whipping up racial anger.
Two articles illustrate the yawning gap.
Obama is talking frankly to a black audience about race. It's true that he hasn't talked like this as president. You can see why. This is why conservatives said it could lose Obama the election.
With a tone more of sadness than anger, one African American blogger unpicks what he sees as lying behind the rage: how some cope with their "cognitive dissonance" of seeing a black man in the White House.
The other big leadership battle
Which party does this critic of the American system come from, saying it produces "overly generous state welfare to inefficient endless politicking and confrontational party manoeuvring that never got anything"?
Republican? Democrat? No, the Chinese Communist Party.
The presidential election is not the only leadership battle going on this year, and the one inside China may be as important for America and the world as well as the one here. It is also horribly difficult to get a handle on.
That's why it was great to read this FT profile of ordinary party members and their who's who of the top ranks.
Essential reading for whoever wins the White House.