FBI: 'Friendly fire' concern over Nicholas Ivie death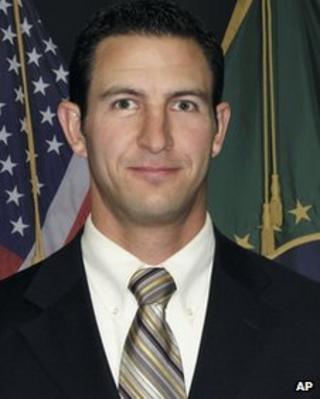 A US border guard killed on a patrol to stop illegal immigrants from Mexico earlier this week may have been inadvertently shot by one of his own colleagues, the FBI says.
The shooting near Naco, Arizona, on Tuesday left Agent Nicholas Ivie dead and another wounded.
He was killed after he and two other agents reportedly responded to a tripped ground sensor near the border.
The FBI said investigations into the incident were continuing.
Ivie's killing was the first such incident since 2010 when a border agent's murder led to a review of a botched US-run cross-border gun-running operation.
Initial reports suggested that the agents had been ambushed as they responded to an alarm triggered by a ground sensor in the area.
The FBI gave few details other than to say it was investigating whether the death had come as a result of "friendly fire".
"There are strong preliminary indications that the death of United States Border Patrol Agent Nicholas J Ivie and the injury to a second agent was the result of an accidental shooting incident involving only the agents," FBI Special Agent in Charge James Turgal Jr said in a statement.
Mr Turgal did not elaborate as to why the FBI came to this conclusion, adding only that "all necessary investigative, forensic and analytical resources" were being used in the investigation.
After the shooting, officials said Ivie, 30, and a fellow unidentified agent, had been on foot about five miles (8km) north of the border, when gunshots rang out at around 02:00 local time (09:00 GMT).
A third agent, a woman, was with them but was unharmed in the attack. The injured agent has since been released from hospital following surgery.
Suspects arrested
US Homeland Security Secretary Janet Napolitano, who flew to Arizona to review the case, said she was "deeply saddened by the death of a fallen colleague".
Two suspects in Ivie's death were arrested during a Mexican military operation on Wednesday in Agua Prieta, in the northern state of Sonora, a Mexican official told the Reuters news agency.
A law enforcement official said it was not clear if strong evidence linked the men to the killing.
There has been no update on their status since the FBI's statement on its probe.
Also on Friday, Arizona's Republican Governor Jan Brewer stood by criticism of the US federal government in remarks at a meeting of border governors in Albuquerque, New Mexico.
"It's the federal government's responsibility to secure our border, and they need to do that, and then we can deal with all the other issues that have come about because our border hasn't been secured," Mrs Brewer said.
Twenty-six US border agents have died in the line of duty since 2002.
The last agent to die on the border was Brian Terry, killed in a shootout with Mexican bandits in December 2010. Later, his death was linked with Operation Fast and Furious, a botched gun-running programme.