Mitt Romney admits 47% remark was 'completely wrong'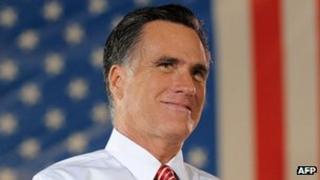 Republican presidential candidate Mitt Romney has said his remark that 47% of Americans are government-dependent victims was "completely wrong".
He told Fox News he was committed to "helping the 100%".
His comments, secretly filmed at a fundraiser in May, were possibly his most damaging campaign moment.
Polls suggest he is back on track after a debate with President Barack Obama this week. Mr Obama has urged him to reveal the true cost of his policies.
Observers say the president is seeking to portray his rival as dishonest about how middle-class families will be taxed, while Mr Romney wants to distance himself from his earlier gaffe.
After the video emerged from the private donors dinner in May, Mr Romney said his remarks were "inelegantly stated" but did not retract them.
However, he went further in his interview with Fox on Thursday.
"Clearly in a campaign with hundreds if not thousands of speeches and question-and-answer sessions, now and then you are going to say something that doesn't come out right," Mr Romney said.
"In this case I said something that's just completely wrong. I absolutely believe, however, that my life has shown that I care about 100%... When I become president, it will be about helping the 100%."
Most observers agree that Mr Romney won the televised debate on Wednesday. A Reuters/Ipsos poll on Thursday suggested Mr Romney had a net positive rating for the first time in the presidential campaign.
The poll said 51% of voters viewed him positively, with Mr Obama at 56%. The Republican moved ahead of his Democrat rival on which candidate voters trust to handle the economy, create jobs and manage the deficit.
Many of Mr Obama's supporters are puzzled he chose not to bring up the 47% comments in the debate, although his campaign has used the remarks in a television advert.
Tax questions
At a rally in Denver on Thursday, Mr Obama urged his rival to tell the truth about his own policies.
"The real Mitt Romney has been running around the country for the last year promising $5tn in tax cuts that favour the wealthy. The fellow on stage last night said he didn't know anything about that," he said.
At a campaign rally in Virginia, Mr Romney did not respond directly to the president's criticism.
But he did argue that Mr Obama had failed during the debate to make his case for another term.
During Wednesday night's head-to-head Mr Romney repeatedly denied the $5tn (£3tn) claim.
Fact-checkers have said that Mr Romney's proposal to lower taxes by 20%, abolish estate tax and the alternative minimum tax would reduce revenue by $5tn over a decade.
The Republican has said he would help offset that by eliminating tax loopholes; the non-partisan Tax Policy Center says the sums do not add up.
The candidates went head to head for 90 minutes on jobs, taxes and healthcare.
Opinion polls agreed that Mr Romney had the upper hand in the debate - the first of three between the White House rivals.
Various surveys gave Mr Romney a 46-67% margin, with Mr Obama trailing on 22-25%.
The president was criticised for appearing hesitant and subdued, while the former governor - who has been lagging in the race - seemed animated and assertive.
Vice-presidential candidates Joe Biden and Paul Ryan will meet in Danville, Kentucky on 11 October, before the second presidential debate on 16 October.