NHL cancels first two weeks over labour dispute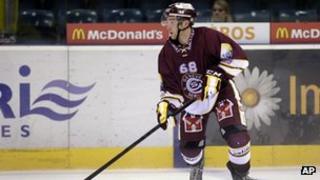 The National Hockey League (NHL) has cancelled the first two weeks of its regular season because of an ongoing labour dispute with its players' union.
The US and Canadian ice hockey league cut 82 games from 11 to 24 October. It is unclear if they will be made up.
The two sides are still far apart on a key issue in the contract talks - how much players should receive of $3bn (£1.9bn) revenue the games bring in.
A labour dispute seven years ago saw the entire 2004-2005 season cancelled.
No future negotiations are currently scheduled.
Without a deal, clashes between the Los Angeles Kings and the New York Rangers, as well as old rivals the Toronto Maple Leafs and the Montreal Canadiens, will be cancelled, the BBC's Lee Carter reports from Toronto.
Playing overseas
"We were extremely disappointed to have to make today's announcement," NHL Deputy Commissioner Bill Daly said in a statement.
"The game deserves better, the fans deserve better, and the people who derive income from their connection to the NHL deserve better."
The players' union argued that the league had forced a lockout onto the players.
"If the owners truly cared about the game and the fans, they would lift the lockout and allow the season to begin on time while negotiations continue," NHLPA Executive Director Donald Fehr said.
A recently expired contract gave players 57% of hockey-related revenue. The NHL would like to have that percentage lower than 50% - possibly as low as 47%.
Many NHL players have decided to stay in North America and play in the American Hockey League, the step below the NHL, while some have decided to find clubs in Europe until any deal is reached.