Meningitis fears prompt US medical warning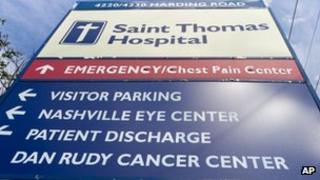 Doctors and hospitals in the US are being urged to stop using products from a firm linked to a widening outbreak of a rare form of fungal meningitis.
The Centers for Disease Control (CDC) says investigators found contamination in a sealed steroid vial at the New England Compounding Center.
Over 35 people in six states have been ill from the disease. Five have died.
The firm recalled the steroid doses and has shut down operations, but the vials have been shipped to 23 states.
It is not yet clear how many patients may have been exposed to any contamination, and the fungal meningitis can have a lengthy incubation period.
Meningitis is an inflammation of the lining of the brain and spinal cord. Symptoms include severe headache, nausea, and fever as well as slurred speech and difficulty walking.
'Abundance of caution'
A briefing by the CDC and the Federal Drug Administration (FDA) said a fungus linked to the steroid medication had been identified in tests of five patients.
"Out of an abundance of caution, we advise all health care practitioners not to use any product" from the company, said Ilisa Bernstein, director of compliance for the FDA's Center for Drug Evaluation and Research.
New England Compounding Center is a type of pharmacy that mixes ingredients for customised medicines. The steroid in question was three lots of methylprednisolone acetate from the firm.
In a statement, the company confirmed it had halted operations but said "there is no indication of any potential issues with other products".
Tests are under way to confirm if the contamination is the same fungus blamed in the outbreak. The disease cannot be passed from person to person but all 35 people affected received a steroid injection for back pain.
The majority of the recorded cases have occurred in Tennessee, where many victims received injections at the Saint Thomas Outpatient Neurosurgery Center in Nashville.
The clinic had 2,000 vials from the suspect lots, and voluntarily closed last month to deal with the investigation.
Three people have died in Tennessee, with one death in Virginia and one in Maryland, reports say.