US arrests 91 over $430m 'Medicare fraud'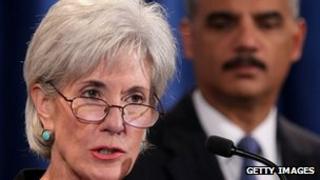 Ninety-one people have been arrested in seven US cities for their alleged roles in a $430m (£265m) Medicare fraud scheme, the justice department says.
A hospital president, doctors and nurses are all accused of submitting claims for treatment that was medically unnecessary or never provided.
Charges against them include healthcare fraud, breaking anti-kickback statutes and money laundering, the agency said.
Medicare is a popular government health programme for the over-65s.
"Today's arrests put criminals on notice that we are cracking down hard on people who want to steal from Medicare," said Health and Human Services Secretary Kathleen Sebelius.
She added that 30 other healthcare providers had been suspended or had administrative action taken against them based on credible allegations of fraud.
Dozens of people either surrendered or were arrested over the last 24 hours in a case led by the Medicare Fraud Strike Force, officials said. The team uses analysis of Medicare data to fight fraud.
The arrests were made in Baton Rouge, Louisiana; Brooklyn, New York; Chicago, Illinois; Dallas and Houston, Texas; Los Angeles, California; and Miami, Florida.
Altogether the charges cover more than $230m in home healthcare fraud, more than $100m in mental healthcare fraud and more than $49m in ambulance transport fraud.
Court documents claim that patient recruiters, Medicare patients and other participants in the scheme were given cash kickbacks in exchange for providing information about healthcare beneficiaries.
Their information was used to submit bills for treatment that never took place or was not needed.
A similar operation was launched in September 2011, with another 91 people arrested and charged over a suspected $295m Medicare fraud.