Two men held in Mexico for US agent Nicholas Ivie death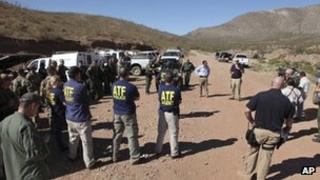 Two men have been held in Mexico over the death of a US border agent shot near the US-Mexico border in the state of Arizona, Mexican officials said.
A law enforcement official said it was not clear if strong evidence linked the men to the killing of Nicholas Ivie.
Another agent was hurt in the attack in Naco on Thursday and was treated for non-life-threatening injuries.
This is the first such incident since 2010, when an agent's murder led to a review of a botched US-run operation.
In Operation Fast and Furious, US agents lost illegal guns from Arizona that were allowed into Mexico to track dealers.
The suspects were arrested during a Mexican military operation on Wednesday in Agua Prieta, in the northern state of Sonora, a Mexican official told the Reuters news agency.
Collecting evidence
George McCubbin, president of the US National Border Patrol Council, said it was likely the gunmen had time to cross the border into Mexico before escape routes could be sealed off.
"I seriously doubt anybody would be laid up and hiding," Mr McCubbin told the Associated Press news agency.
The Cochise County Sheriff's department has said they found tracks heading south from the scene of the shooting. Authorities say they are still collecting evidence.
Earlier, officials said Mr Ivie, 30, and a fellow agent, who has not been identified, had been on foot about five miles (8km) north of the border, when gunshots rang out at around 02:00 local time (09:00 GMT).
A third agent, a woman, was with them but was unharmed in the attack, Reuters reported. They were responding to a tripped ground sensor, officials said.
In December 2010 Agent Brian Terry was killed in a shootout with Mexican bandits. Later, his death was linked with Operation Fast and Furious.
Two of the illegal weapons were found at the scene of the border agent's murder. Fast and Furious ended in early 2011.
No arrests were made in connection with Terry's death, but 14 officials were recently cited for possible disciplinary action in a US justice department investigation into the handling of the operation.