Romney's practice pays off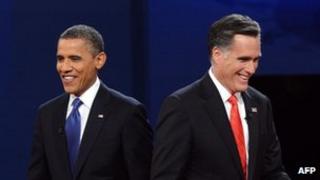 Mitt Romney had been practising so hard that his voice was not hoarse, but certainly deeper than usual. And it paid off.
Mr Romney was animated, in command of his information, overriding the moderator and interrupting the president. He seemed to be in charge and enjoying the scrap.
On the other hand, President Obama started out looking very nervous, and although he warmed up and got into his stride, he ended up giving overlong, mini-lectures straight to camera rather than engaging and arguing.
He seemed unwilling to actually debate with his opponent and missed a few obvious openings when he should have challenged.
This may be deliberate. Perhaps his team decided that he shouldn't get riled, so it was best not to get into a fight. If so, he held back too much.
If Mr Romney clearly won this debate, in terms of style at least, he can't celebrate too hard just yet. If the polls don't move after a win, then he really is in trouble.