Judge blocks Pennsylvania voter ID law before election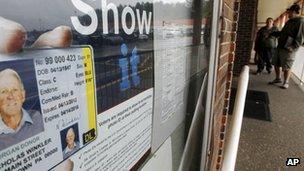 A judge in the US state of Pennsylvania has stopped new ID requirements for voters from taking effect before November's presidential election.
The ruling, which says voters do not need valid photo ID to cast a ballot, is likely to be cheered by Democrats.
Pennsylvania, a key swing state, has been leaning towards President Barack Obama in opinion polls.
Laws such as the one halted in Pennsylvania have triggered a debate over voting rights in several states.
Judge Robert Simpson's decision would not prevent the law from being implemented in future elections. A 13 December hearing has been set to schedule further proceedings in the case.
But Judge Simpson, who upheld the law in an earlier August ruling, was asked by the state's supreme court to determine whether Pennsylvania's state government had done enough to ensure voters had "liberal access" to get the required ID.
The case could be pursued in Pennsylvania's supreme court, although it is unclear if any appeal would be heard before election day.
Opponents of the law, including members of the Democratic Party, have argued that it would make it harder for people - especially the elderly and minorities - to vote.
A lawyer representing the plaintiffs described the ruling as a "win".
Supporters of the measure, passed by a Republican state legislature and Republican governor, said it would help prevent electoral fraud.
However, the state government conceded that there has never been a known case of in-person voter fraud.
Historically, lower voter turnouts have benefited Republicans in Pennsylvania.
Tuesday's decision comes after two days of testimony last week on the state's efforts to make it easier to obtain the identification.
The court heard long queues and poorly informed staff at driving licence centres would complicate voter efforts to get the required documentation.
Before the new law was passed, Pennsylvania's first-time voters needed to show a bank statement or utility bill if they did not have photo ID.
The new rules would require every voter to show a valid, state-sanctioned photo ID before they could vote.
Voters would have to provide two proofs of residency, a birth certificate or citizenship papers, and a valid social security card in order to get the required ID.
Pennsylvania, with 20 electoral college votes, has long been seen as a vital swing state in presidential elections.
But Republican presidential nominee Mitt Romney has been trailing President Obama in opinion polls from the state.
Correspondents say the dispute over its voter ID law has taken on a high profile amid a tight White House race.
In June, a state legislator told a Republican dinner that the new measure would "allow Governor Romney to win the state of Pennsylvania".
Similar voter ID laws have been passed and upheld by courts in the states of Indiana, Georgia and New Hampshire.
But such measures have been blocked in Texas and Wisconsin. A court is reviewing South Carolina's law.