Loose seats on 757s triggers American Airlines check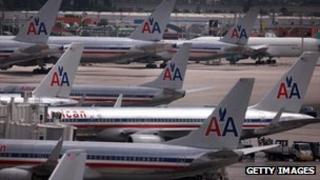 US safety regulators are looking into three separate incidents in recent days when passenger seats came loose midflight on American Airlines planes.
The Federal Aviation Administration said the planes had recently undergone maintenance work involving seats.
An American Airlines spokeswoman said it was inspecting eight 757 planes.
The third biggest US airline said it would carry out overnight checks on planes with similar seat assemblies "out of an abundance of caution".
An initial review found a potential problem with how the seat tracks fit to the floor.
Turbulence risk
A flight from Boston to Miami on Saturday made an emergency landing in New York after three passenger seats came loose shortly after takeoff. There were no injuries.
On Monday, a flight from New York to Miami returned to John F Kennedy airport after the unsecured seats were discovered.
On Tuesday, the airline said that seats had also come loose on a flight from Vail, Colorado, to Dallas-Fort Worth in Texas.
Loose seats create a potentially dangerous situation if the plane hits turbulence.
Boeing, which makes the 757s, declined to comment to the Associated Press other than to say it had nothing to do with the recent maintenance work.
Both the airline and government officials discouraged speculation that the incidents could be related to labour-management tension at American.
The airline is cutting labour costs and laying off maintenance workers as it works through bankruptcy.
Last week the airline accused some pilots of participating in an illegal work slowdown by calling in sick. The action led to delayed and cancelled flights.