US blocks Chinese firm's investment in wind farms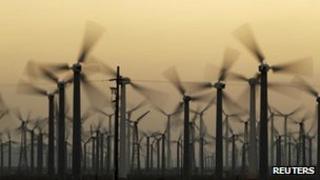 President Barack Obama has stopped a Chinese company from building wind turbines in the US state of Oregon, citing national security concerns, his administration said.
Ralls Corp, a private Chinese firm, had acquired four wind farm projects near a US naval facility earlier this year.
This is the first foreign investment to be blocked in the US for 22 years.
It comes as the US lodged a trade dispute against China just weeks ahead of November's presidential election.
The move forces Ralls Corp to divest its stake in the projects, which were located near restricted airspace used by the military base.
The president's order came after an investigation into the wind farms by the US Committee on Foreign Investments (CFIUS) said there was no way to mitigate the national security risks posed by the Chinese company's plans.
The White House order said: "There is credible evidence that leads me to believe that Ralls Corporation... might take action that threatens to impair the national security of the United States."
The order also targeted Sany Group, the company that makes the turbine generators.
The military has said it uses the Oregon base to test unmanned drones and other equipment for electronic warfare. The aircraft fly as low as 200ft (60m) at speeds of as much as 300mph (500km/h).
Correspondents say the development could disgruntle China, whose trade advantage over the US has become a focus of Mr Obama's battle for re-election against Republican contender Mitt Romney.
Mr Romney has repeatedly accused the president of being too lenient with what he has called China's unfair trade practices.
Earlier this week, the Romney campaign released a video claiming that China is stealing American ideas and jobs, and accusing Mr Obama of doing little to stop it.
Mr Romney has said that on his first day in office he would use an executive order to label Beijing a currency manipulator.
The Obama campaign has in turn claimed that Mr Romney outsourced jobs to China during his time as a private equity chief.
Meanwhile, on the campaign trail, Mr Obama has highlighted his record with China, reminding voters that he filed more trade cases against Beijing in one administration than his predecessor, George W Bush, did in two terms.
This month, the Obama administration filed a complaint with the World Trade Organization against Chinese subsidies for its car industry.
The Obama campaign has also criticised Mr Romney for investing in Chinese firms.