Aurora shootings: James Holmes 'threatened professor'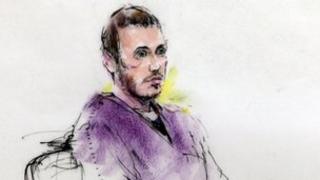 The suspect in the case of a cinema shooting in the US state of Colorado previously threatened a university professor, according to prosecutors.
James Holmes had his access to the University of Colorado campus revoked after the threat, they say.
However, Mr Holmes' defence team said his key card had been deactivated as he was in the process of dropping out.
Mr Holmes faces 142 charges over the killing of 12 people and wounding of 58 in the cinema in the town of Aurora.
The claims are contained in court documents released on Friday.
The name of the person Mr Holmes is alleged to have threatened has reportedly been redacted.
Psychiatry expert
Prosecutors also say that Mr Holmes had "conversations with a classmate about wanting to kill people in March... and that he would do so when his life was over".
They also say that after his access to the university was stopped, he "began a detailed and complex plan to obtain firearms, ammunition" and other equipment for the attack.
In another document, Mr Holmes' defence announces its intention "to call... an expert in the field of psychiatry".
Correspondents have said it is likely Mr Holmes will plead insanity.
Mr Holmes, 24, was a graduate student in neuroscience at the University of Colorado in Denver but was withdrawing from his studies after failing a key exam.
The attack, which took place at the premiere of the new Batman film in Aurora in July, was one of the worst mass shootings in US history.