Fox News apologises over live suicide in Arizona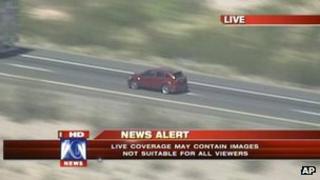 The US network Fox News has apologised for showing a man fatally shoot himself in the head on live television.
Fox News on Friday was covering a high-speed chase that began in Phoenix, Arizona, using a live helicopter shot.
After driving for dozens of miles into the desert, the motorist stopped and ran on to a dirt road. He then put a handgun to his head and fired.
TV anchor Shepard Smith later apologised to viewers for not cutting away. "We really messed up," he said.
Phoenix police say the chase may have started with a car-jacking.
Police spokesman Sgt Tommy Thompson said the man was alleged to have stolen the car from a couple at gunpoint outside a restaurant just before 11:00 local time (18:00 GMT).
Police tracked down the car and began pursuit. The driver fired several shots at the police car, but no officers were hurt.
The car travelled west on Interstate highway 10, before turning on to a dirt road about 70 miles (113km) to 80 miles from the state border with California.
"He got out of the car and shot himself," Sgt Thompson said. "Efforts to revive him were not successful and he was dead at the scene. We don't have an ID yet."
'Severe human error'
"We're all very sorry," said Smith after the incident. "That didn't belong on TV."
Michael Clemente, executive vice-president of news editorial at Fox News, said the channel had taken pains to avoid distressing viewers but had failed.
"We took every precaution to avoid any such live incident by putting the helicopter pictures on a five-second delay," he said.
"Unfortunately, this mistake was the result of a severe human error and we apologise for what viewers ultimately saw on the screen."
Fox News Channel has a reputation for picking up car chases from its local affiliates and airing them live.
Making for gripping television, such footage often provides a short-term ratings boost as viewers tune in to see how they end, the Associated Press news agency notes.
It is not the first time that a suicide has been inadvertently broadcast live on American television.
Christine Chubbuck shot herself dead on Florida's WXLT-TV channel (now WWSB) in 1974 while presenting a news programme.
It is common practice for broadcasters to delay live material by a few seconds as a control mechanism.