Actor Johnny Lewis dies after 'killing his landlady'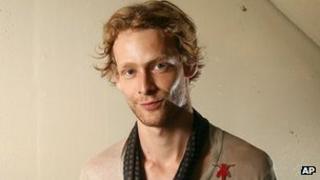 Police are investigating the death of a Sons of Anarchy actor in Los Angeles, California, on Wednesday after he apparently killed his landlady.
Johnny Lewis, 28, was found in the driveway of his house, after appearing to have jumped or fallen to his death from the roof.
He is the only suspect in the death of Catherine Davis, 81, who was apparently beaten to death at the property.
Court records show Lewis had been released from prison a week earlier.
Records show the actor had pleaded no contest to charges of assault with a deadly weapon and attempted burglary in two unrelated cases earlier this year.
Over the summer he was enrolled in a drug, alcohol and psychiatric treatment programme and was released from county jail on 21 September, records indicate.
His lawyer said on Thursday that he was "surprised" and "baffled" by the deaths.
Los Angeles Police Commander Andrew Smith said neighbours reported that they heard a woman screaming inside the house in the Los Feliz neighbourhood before the bodies were discovered on Wednesday morning.
They also told officials that a man had jumped over the fence, assaulted a painter and a neighbour and then jumped back over the fence.
Police say it is not clear if drugs or alcohol were involved.
Lewis had a role in Sons of Anarchy in 2008 and 2009, and played Kip "Half-Sack" Epps in the FX Show.