Teamster boss Jimmy Hoffa subject of new Detroit search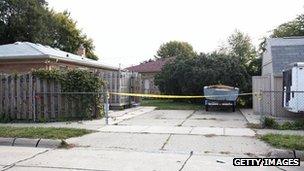 Police are searching outside a home near Detroit, Michigan, for remains of a union boss whose disappearance 37 years ago has never been solved.
Jimmy Hoffa, of the Teamsters union, was last seen on 30 July 1975 outside a restaurant in a Detroit suburb, where he was due to meet a New Jersey union leader and local mafia boss.
Police said they had been informed a body was buried under the driveway.
But their tipster did not say if it was Hoffa's body that was interred there.
On Friday, the Michigan Department of Environmental Quality began drilling for soil samples in a suburban Detroit neighbourhood.
Officials will test the samples for evidence of human remains, and results are expected back as early as Monday.
Police say they are looking for a body but have played down suggestions that Hoffa could be buried there, citing timeline discrepancies.
Despite many searches over the years, Hoffa's body has never been found.
Theories about his death include suggestions that his body was submerged in concrete at the Giants stadium in New Jersey, ground up and thrown into a swamp in Florida, or shredded at a fat-rendering plant owned by the Mob.
There have been numerous searches in recent years around Detroit: under a swimming pool in the garden of a house in 2003; under the floor of another home a year later; and at a horse farm in 2006.
Before the current search got under way, the environmental officials used a radar to scan the ground below the concrete surface of the driveway, and found it had been "disturbed" at some point, Roseville Police Chief James Berlin said.
At the scene on Thursday, Cindi Frank, whose father was a Teamsters driver, took pictures on her mobile phone.
She said Hoffa's disappearance had always interested her family and that if his body was found, "it will be a big deal... This has just been one of those unsolved mysteries".
Related Internet Links
The BBC is not responsible for the content of external sites.