Key swing state of Iowa begins early voting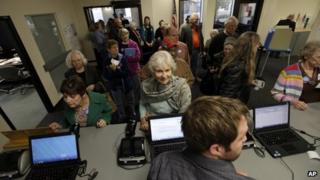 Early voting has begun in Iowa, one of the key swing states that could decide November's US presidential election.
The campaigns of President Barack Obama and Republican Mitt Romney are mobilising supporters to cast their ballots.
South Dakota, Vermont and Idaho have already begun in-person early voting, but Iowa is the first of the swing states to do so.
Most Americans will go to the polls on 6 November, now 40 days away.
In the last presidential election, Iowans cast 545,000 votes early, about 30% of the total ballots in the state, and awarded Mr Obama a solid majority.
Recent polls suggest Mr Obama is leading in the Midwestern rural state by an average of almost five points.
Focus on economy
Mr Obama and Mr Romney spent Wednesday in Ohio, another swing state - one that is not viewed as a reliable win for either party's candidate.
Ohio begins early voting next week.
Iowa and Ohio are among seven states where the Obama campaign is launching a TV advertisement promoting the president's economic plan.
In the two-minute ad, Mr Obama argues that his proposals will create manufacturing jobs, cut oil imports and hire thousands of new teachers.
After the embarrassment caused by a leaked video in which Mr Romney disparages 47% of Americans as government-dependent Obama supporters, his campaign is refocusing on its central message: that the president has mishandled the economy.
The former Massachusetts governor is hoping to win the support of working-class voters, including miners, with an ad showing Mr Obama in 2008 saying he would support anti-pollution laws that could bankrupt coal plants.
The two candidates are campaigning in another swing state on Thursday: Virginia.
Both men are also gearing up for the first presidental debate - in Denver, Colorado, on 3 October - which will focus on US foreign policy.
While Iowans will be able to vote early at county auditor offices and by absentee ballot, state law also allows secondary polling locations to be set up by the signature of 100 county voters.
Both campaigns filed a batch of petitions before last week's deadline to establish early voting at carefully chosen secondary locations.
In Black Hawk county alone, Democrats petitioned for six sites on a university campus and one at an African-American church, according to the Associated Press.
Among the Republican petitions in the county was a polling location at a community centre operated by the Catholic Church.
The number of petitions is up significantly from four years ago, Black Hawk county elections manager Kyle Jensson told the AP.
"We'll be scurrying to so many places," Mr Jensson said.
The Obama campaign also successfully petitioned for voting at a Hispanic grocery store in a different county.
Iowa officials report that Republicans have an 18,000-vote lead in registration among active voters.
But Democrats outnumber Republican absentee ballots five to one.
"We're definitely putting an emphasis on early voting with our supporters," Erin Seidler, the communications director for Mr Obama's Iowa campaign, told National Public Radio.
Tom Szold, the Republican National Committee's Iowa spokesman, said the campaign was confident its supporters would turn out on election day.
But the campaign would also send out mailings this week to encourage early voting, he added.