Barack Obama and Mitt Romney campaign in Ohio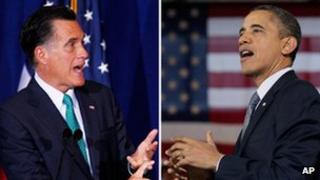 US President Barack Obama and his Republican challenger Mitt Romney spent the day campaigning in Ohio, as opinion polls show the incumbent pulling ahead of his rival in the key swing state.
Mr Obama has a five-point lead in the Buckeye State, according to a Real Clear Politics average of surveys.
He addressed two universities, while Mr Romney attended events in three cities as he travelled the state by bus.
This is the last week of campaigning before the presidential debates begin.
Ohio, with 18 electoral college votes, is seen as critical to Mr Romney's path to victory. No Republican has ever won the White House without carrying the state.
Early voting is due to begin in Ohio from 2 October, ahead of election day on 6 November.
Debate preparations
A CBS/NYT/Quinnipiac opinion poll released on Wednesday suggested Mr Obama held a 10-point lead over his rival in Ohio and was ahead by nine points in Florida - another key battleground state.
A Washington Post poll released on Tuesday gave Mr Obama an eight-point lead in Ohio and a four-point lead in Florida.
Mr Obama has made 13 visits to Ohio this year, while Mr Romney has been to the state 10 times since the beginning of May, according to his campaign.
The former Massachusetts governor made seven more trips to Ohio during the Republican primaries at the start of the year.
Some analysts have said Ohio's improving economy has favoured Mr Obama. The state's unemployment rate is 7.2%, below the national average of 8.3%.
On Wednesday, Mr Obama was expected to talk about his record on China, highlighting that he filed more trade cases against Beijing in one administration than his predecessor, George W Bush, did in two terms.
This month, the Obama administration filed a complaint with the World Trade Organization against Chinese subsidies for its car industry.
The Obama campaign has also criticised Mr Romney for investing in Chinese firms.
Meanwhile, Mr Romney has said that on his first day in office he would use an executive order to label China a currency manipulator.
He also focused the deficit and the interest paid on the national debt.
The Romney campaign released the latest in a volley of campaign ads on Wednesday.
The Republican appears in the video and says directly to the camera: "President Obama and I both care about poor and middle-class families. The difference is my policies will make things better for them."
Mr Romney appeared at campaign stops in Westerville, Bedford Heights and Toledo. Mr Obama addressed students at Bowling Green and Kent.
Both candidates have one eye on the presidential debates which begin next week. The first forum on 3 October in Denver, Colorado, will focus on foreign policy.
Mr Romney has been preparing intensively for the debates, with Republican Ohio Senator Rob Portman playing the role of Mr Obama.
"I want to kick him out of the room, he's so good," Mr Romney said of Mr Portman on Tuesday.
Mr Obama is expected to head to Nevada on Sunday for three days of debate preparation.
He has been practising with Democratic Massachusetts Senator John Kerry playing the role of Mr Romney.