Stolen bust of Benjamin Franklin recovered in Maryland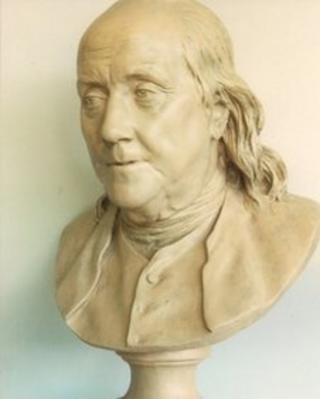 A rare bust of US founding father Benjamin Franklin has been found nearly one month after it was stolen from a home in Philadelphia, Pennsylvania.
The $3m (£1.8m) piece was recovered when police arrested a cleaner who had worked at the house it was taken from.
It was stolen on 24 August from a stand in the living room of a home in the affluent neighbourhood of Bryn Mawr.
The sculpture is one of three known to have been made in 1778 by Jean-Antoine Houdon when Franklin visited Paris.
The FBI confirmed Friday's arrest of Andrea Lawton, 46, and the recovery of the bust, which is 28in (71cm) tall and weighs 25lb (11kg).
Ms Lawton, who reportedly had the sculpture in a duffle bag, was arrested after getting off a bus to Elkton, Maryland, from her hometown of Mobile, Alabama.
According to court documents, the suspect, also known as Andrea Gresham, faces charges of theft, fraud and interstate transportation of stolen property.
She is due in court on Wednesday for a bail hearing.
Ms Lawton was fired on 21 August from a cleaning company that worked at the home of a lawyer, George D'Angelo, Reuters news agency reported.
Employees saw her three days later driving away from the property in a vehicle.
Mr D'Angelo, 85, said he believed the breastplate of the sculpture was cracked, but had not been able to check the work of art because the FBI was testing it for fingerprints.
"I think it can be repaired," Mr D'Angelo told the Associated Press. "I hope so. It would be ghastly if it can't."