Washington zoo's panda cub had abnormalities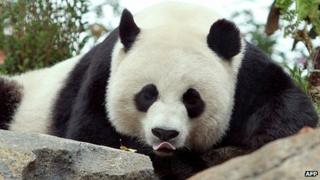 A week-old giant panda cub that died at Washington DC's National Zoo had fluid in its abdomen and liver abnormalities, an initial necropsy has found.
There was no evidence of external trauma to the cub, zoo officials said.
Staff were alerted to the cub's plight on Sunday after its mother, Mei Xiang, was heard making "distress" sounds.
The tiny cub was removed from the panda enclosure, but attempts to revive it proved unsuccessful.
Chief Veterinarian Suzan Murray said on Monday that fluid in the abdomen was abnormal for a cub, and its liver was discoloured. It is not clear if either condition caused the death.
Maternal instinct
Results from a full necropsy should be available in two weeks, Dr Murray said.
The cub weighed just under 100g (3.5oz), and was believed to be female. It was born unexpectedly on 16 September.
Fourteen-year-old Mei Xiang had five failed pregnancies before giving birth to the cub, which was conceived by artificial insemination after she and the zoo's male, Tian Tian, failed to mate.
Only one panda cub has survived at the zoo in the past.
During a press conference on Monday, zoo director Dennis Kelly said he did not think the panda fertilisation programme contributed to the cub's death.
"Nothing suggests that in hindsight we would do anything differently," Mr Kelly said.
The National Zoo would still research other panda programmes, he added, to learn if other steps can be taken in future.
Zoo officials said that Mei Xiang had begun to eat again and had come out of her den, but was cradling a plastic toy at night in what could be a sign of a maternal instinct.
The cub had not been a cause for concern until its mother made a "distress vocalisation" on Sunday morning.
In a statement, the zoo said panda keepers and volunteers "let the veterinarian staff know immediately".
"They... were able to safely retrieve the cub for an evaluation at 10:22, which we only do in situations of gravest concern.
"The veterinarians immediately performed CPR and other life-saving measures, but sadly the cub was unresponsive."
Giant pandas are rare and endangered, with as few of 1,600 surviving in the mountain forests of central China.
More than 300 others live in zoos and breeding centres, mostly in China.