New York inmates sue over dental floss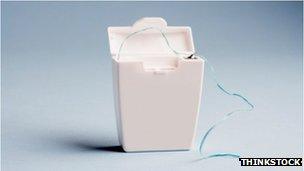 Eleven inmates in a suburban New York jail have sued their prison for $500m (£300m) and access to dental floss, saying they are losing their teeth.
In a civil rights lawsuit filed on 10 September, the inmates say they are suffering cavities and pain because they are unable to floss.
Deputy Correction Commissioner Justin Pruyne defended the ban, saying floss can potentially be used as a weapon.
Santiago Gomez, the lead plaintiff, says other jails permit flossing.
The inmates at the Westchester county jail in Valhalla say without floss they develop cavities and bleeding gums, despite brushing their teeth three times a day. They also say they need constant dental work for temporary fillings because they are denied crowns and root canals.
Mr Pruyne said staff were exploring if there were products "which would be appropriate in a custodial situation... maybe some sort of floss that breaks easily" but that "staff and inmate safety come first".
Related Internet Links
The BBC is not responsible for the content of external sites.