US Army to field-test female body armour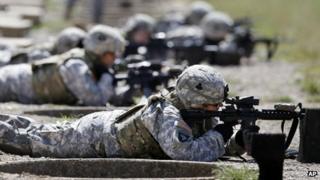 American women soldiers deploying to Afghanistan are to become the first to field-test body armour made specifically for women.
Troops from 101st Airborne Division at Fort Campbell, Kentucky, part of a team working with Afghan women, were given prototypes of the tactical vests.
The female soldiers tried out the armour during trials with M4A1 rifles.
The need for new vests were first suggested in 2009, after women soldiers described problems with larger vests.
They reported trouble bending over, getting in and out of tight spaces such as military vehicles, and properly positioning their rifles on their shoulders, Maj Joel Dillon, US Army assistant product manager for the armour, told the Associated Press.
In addition, the long plates in the vests would rub against the women soldiers' hips and dig into their thighs when sitting down, Maj Dillon added.
'Feeling safer'
The new vests are designed for a shorter torso, fit closer to women's chests, and can also include smaller ballistic inserts for narrower waists.
They are lighter because the new vests will not hang from the shoulders as current male vests do, Maj Dillon added.
"With a vest that is too long, if they lay their rifle on the ground or drop it, it's very hard to bend over to pick it up because that plate digs into their side.
"Now they can bend down and touch their toes and so they are more mobile and therefore you can get additional safety because you can perform better," Maj Dillon said.
Although women have fought on the front lines in Afghanistan and Iraq for several years, women now make up 14% of the Army and are closer to combat than ever before, Maj Dillon noted.
Feedback from 19 women soldiers wearing the armour will be incorporated into the vest design before it goes into large-scale production for the rest of the Army.
One woman soldier, Spc Gilliann Campbell, described the new vest as "a dream", adding that having space to rest her rifle on her shoulder or get the vest on quickly can be critical in combat situations.
"I feel safer in my own abilities because it lets me do what I need to do as a soldier. With my other armour, I felt a fear in my head that I was not able to perform to the best of my abilities. Now I can."
Meanwhile, Spc Sarah Sutphin said the improvements were clear during marksmanship training on Tuesday with the new vests on.
It was no longer necessary to shift the vests around to fire a weapon, or move gear on the vest to lie closer to the ground, she added.