Chicago teachers weigh tentative deal to end strike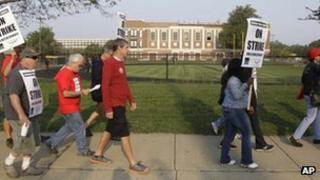 Teachers in Chicago are reviewing a tentative deal ahead of an afternoon vote to end a seven-day strike.
Some 800 Chicago Teachers Union members, representing 29,000 teachers, will decide whether to end a walkout keeping 350,000 students out of school.
On Sunday, teachers decided to extend the strike by two days, prompting Chicago Mayor Rahm Emanuel to apply for a court order to end the action.
The walkout is the city's first in 25 years.
Ahead of the vote at 15:00 local time (20:00 GMT), union delegates in the nation's third-largest school district were expected to take a straw poll of regular teachers to gauge support for the proposed settlement.
It includes pay raises and concessions from the city on teacher evaluations and job security.
On Wednesday, a court is scheduled to rule on the Illinois city's request that teachers are ordered to return to school.
Heath Davis, a science teacher, said he felt optimistic that Tuesday's union vote could end the walkout, although disagreements over the academic calendar and pensions have not yet been resolved.
"We don't want to move too quickly," Mr Davis said, adding that he wanted to return to the classroom quickly. "We want to make sure our questions are answered."
Correspondents say teachers are coming under increasing pressure to back a deal that labour and education experts - and some union leaders - have called a victory for the teachers' union.
The contract proposes a 3% raise in teachers' salaries in the first year of the agreement, followed by a 2% raise in the following two years, with other increases available for experienced teachers.
The deal does not re-introduce a 4% pay rise that was rescinded by the mayor earlier this year.
But according to the school district, Chicago teachers would remain among the highest paid in the country, with average salaries of about $76,000 (£47,000) per year.
Union negotatiors have also managed to reduce the weighting of test scores in teacher evaluations, and an appeals process to contest evaluations has also been incorporated into the deal.
The city also won some concessions - including a longer school day and a say for head teachers in who gets hired at their schools. Provisions have also been made to accommodate displaced teachers.
The confrontation with a labour group that generally backs Democratic candidates is seen as an embarrassment to Mr Obama, in his home city and in the middle of a re-election battle.