Texas and North Dakota campus evacuations cancelled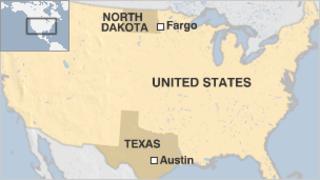 Officials at the University of Texas and at North Dakota State University have given the all-clear following evacuations because of bomb threats.
The University of Texas said a threat was received from a man "with a Middle Eastern accent" at 08:35 (13:35 GMT).
The Fargo-based North Dakota university received a threat shortly afterwards.
FBI spokesman Kyle Loven told the Associates Press it was trying to determine if the two threats were related.
Classes cancelled
At the University of Texas, Austin, home to 50,000 students, staff and students were ordered to clear the buildings and get as far away as possible from campus.
Officials said the man making the threat said he was with al-Qaeda and that bombs were set to detonate 90 minutes later, according to a statement.
"Evacuation due to threats on campus. Immediately evacuate ALL buildings and get as far away as possible. More information to come," the evacuation order said.
However, the go-ahead to return to campus was given shortly after 12:00 local time. Activities were set to resume at 17:00 but classes for the rest of the day were cancelled.
"We're safe," university President Bill Powers told reporters at a news conference.
Shortly after the University of Texas issued its alert, North Dakota State University issued a similar notice, also saying it had received a bomb threat.
"NDSU is requiring all employees and students to leave campus by 10:15," the university said.
"This includes residence hall students, who, if necessary, should walk to locations off campus. This also includes the downtown buildings and agricultural facilities."
The university, home to 14,000 students, lifted its evacuation order shortly after 12:00 local time and said classes would resume at 14:00.