Amy Bishop pleads guilty in Alabama university killings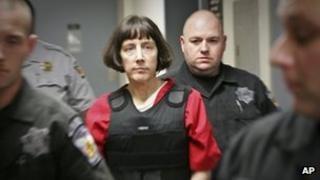 A former US biologist has pleaded guilty to murdering three colleagues and wounding three others in a 2010 shooting rampage at a faculty meeting.
Former University of Alabama at Huntsville scientist Amy Bishop, 47, had previously pleaded not guilty by reason of insanity.
Bishop was said to have been angry at being denied tenure in the department.
Separately, Bishop has been charged in the 1986 shooting death of her brother, previously ruled an accident.
On Tuesday, the Harvard-trained biologist admitted one count of capital murder in the three deaths and three counts of attempted murder.
Prosecutors dropped their demand for the death penalty in the deal, the Huntsville Times newspaper reported.
According to prosecutors, on 12 February 2010, Bishop stood up in a faculty meeting, pulled a 9mm pistol and opened fire, killing the head of the school's biology department and two other professors.
Another professor, an assistant professor and staff aide were wounded in the shooting. No students were injured.
The prior decision not to grant her tenure effectively ended her employment in the biology department, associates have said.
She was apprehended outside a science building at the University of Alabama at Huntsville campus.
The shooting death of her 18-year-old brother in the Massachusetts town of Braintree nearly three decades ago was initially ruled an accident and never came to court.
Investigators reopened the case following the Huntsville shooting.