Tax cheat whistleblower Bradley Birkenfeld gets $104m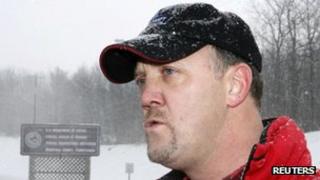 US tax authorities have awarded $104m (£65m) to an ex-banker who supplied details about overseas tax cheats.
Bradley Birkenfeld is said to have exposed tax evasion at UBS AG, a prominent Swiss bank, passing details to the US officials probing the bank.
In 2009, the bank paid a $780m fine in the case and agreed to turn over the names of thousands of Americans suspected of cheating on their taxes.
Birkenfeld also served prison time for fraud conspiracy in the same case.
The Internal Revenue Service (IRS) confirmed on Tuesday that it had paid an unprecendented reward.
"The IRS today sent 104 million messages to whistle-blowers around the world - that there is now a safe and secure way to report tax fraud and that the IRS is now paying awards," Birkenfeld's lawyers, Stephen Kohn and Dean Zerbe, said in a statement provided to the Associated Press.
"The IRS also sent 104 million messages to banks around the world - stop enabling tax cheats or you will get caught."
Admission of guilt
The Internal Revenue Service said Birkenfeld had given information that led to the legal action against UBS.
The money was awarded under a 2006 law intended to encourage whistle-blowers to report on high-dollar tax cheats.
Mr Birkenfeld admitted in 2008 that he helped an American client avoid paying US tax on $200m (£124m) in assets.
He then went on to provide information to investigators looking into UBS's private banking business.
The following year, UBS agreed to pay $780m to the US government to settle allegations that it defrauded US tax authorities.
The Swiss banking giant also agreed to hand over the identities and account information of certain US clients.