New York's 9/11 museum to be finished as deal is struck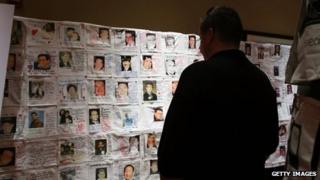 A dispute that has all but halted work on New York's 9/11 museum has been resolved in time for the attacks' 11th anniversary, say officials.
The governors of New York and New Jersey and the mayor of New York City announced the agreement late on Monday.
The site was supposed to have been completed by Tuesday, but it is unclear if it will even be open in time for the 12th anniversary of the attacks.
Work stalled late last year as payments to the builders came to a halt.
The dispute over construction costs for the ground zero museum lay between the memorial foundation and the Port Authority of New York and New Jersey.
New York Governor Andrew Cuomo and New Jersey Governor Chris Christie control the Port Authority, while New York City Mayor Michael Bloomberg is the foundation's chairman.
Oral histories
Gov Cuomo said Monday's agreement put in place a "critical and long overdue safeguard" to spare further expenses on the public purse.
Mayor Bloomberg said the deal would ensure that work would not stop until the museum was completed.
Governor Christie said he was "gratified" that round-the-clock construction would immediately resume at the site.
Final bill estimates for the project vary between $710m (£443m) and $1.4 billion.
The underground museum is to house such artefacts as the staircase that workers used to escape the attacks.
Visitors will also be able to see portraits of the nearly 3,000 victims and hear oral histories of 11 September 2001.
Joseph Daniels, the museum's president, said that it could take more than a year to complete the job, raising the possibility that the project might not be finished until 2014.
The $3.9bn One World Trade Center, formerly known as the Freedom Tower, is due to open in 2014 on the north-west corner of ground zero.
Last September, an outdoor memorial opened at the site. The plaza has been visited by almost 4.5 million people.