New Jersey capital Mayor Tony Mack held over corruption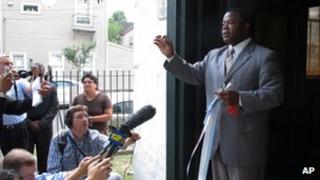 FBI agents have arrested the mayor of New Jersey's capital city, accusing him of corruption.
Trenton Mayor Tony Mack allegedly received bribes and conspired to use his influence to push through a proposed city car park project.
The car park was in fact a ruse, organised by the FBI as part of the ongoing investigation.
He was released on a $150,000 (£93,703) bond on Monday, but said nothing as he left federal custody.
His brother, Ralphiel Mack, as well as campaign supporter Joseph Giorgianni, a convicted sex offender, were also arrested.
According to court documents, the three had already received $54,000 from an FBI informant who purported to be a developer, and were anticipating another $65,000.
The Trenton mayor, who began his term in 2010, faced a recall election in 2011 after questions were raised about his employment practices.
Federal agents began investigating Mr Mack and the others several months after he took office, according to the criminal complaint.
Mr Mack faces up to 20 years in prison if convicted on the charge.
'The Boss Tweed way'
During the investigation, two co-operating witnesses recorded conversations with the accused while the FBI made extensive use of wiretaps on phones belonging to Mr Mack and Mr Giorgianni.
According to the complaint, Mr Giorgianni boasted on the recordings that he liked to "make money for my friends. I like to do it like the Boss Tweed way," referencing a famously corrupt 19th Century New York political boss.
Over the course of multiple meetings at his Trenton restaurant, Mr Giorgianni complained that the mayor could not take bribes because he was being watched closely.
"It's sickening," he allegedly told one of the informants, later saying: "Going to jail's my business. It ain't his."
Officials say they believe Mr Mack was directly involved because he appeared to understand the code Mr Giorgianni allegedly used to refer to the bribes - telling him that "Uncle Remus landed" - in several phone calls and text messages.
"This mayor went to great lengths to conceal himself and use a convicted felon as his bag man," US Attorney Paul Fishman told reporters on Monday.
Mr Mack also met an FBI informant with Mr Giorgianni in Atlantic City, New Jersey, where one part of the bribe was allegedly handed over.
An FBI raid in July of this year found cash with serial numbers matching the bribe money in the houses of Mr Giorgianni and Ralphiel Mack.
Tony Mack told investigators in July that he didn't understand the code words Mr Giorgianni used and denied that Ralphiel Mack had picked up money for him from Mr Giorgianni, the Times of Trenton newspaper reported.